Chainsaw Milling in Bay of Islands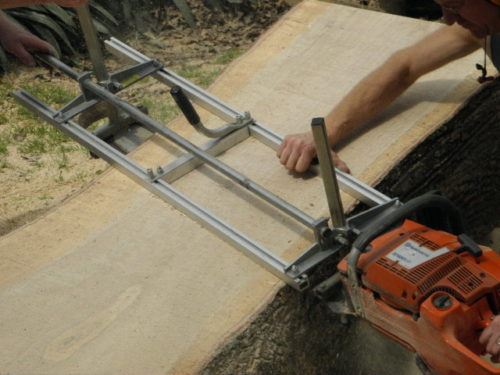 Some of the most stunning furniture is made from naturally beautiful New Zealand woods. Macrocarpa floorboards and ornate Tasmanian Blackwood chairs offer an extra special feature to any home. These statement pieces all start with tree felling and milling for wood.
ArborAid offers a range of tree care related services, including consultations on storing, drying and seasoning your milled wood. We provide a full sweep of services in this area, including felling, milling and treating. If you'd rather give it a go yourself, read on for some top tips from our experts!
First of all, look at your timber before taking your tools to it. See if you find anything unusual hidden inside. If there's metal hidden in there, sawing through it will reduce your chainsaw's chain to filings.
You'd be surprised by what you might find hidden in that tree of yours. Bullets, fence staples and wire are all common surprises that might be present in your timber. Our staff have seen a range of strange things – including horseshoes, pipes, waratars, mechanical car parts and even bits of push bikes!
Next, be realistic about the timber you intend to mill. Ask yourself the following questions:
Is rot or fungal infection present?
Does the timber show signs of borer?
Are there cracks or fractured anywhere?
Has the tree been hollowed out by insects or environmental wear?
These questions will help you decide whether the timber is at the appropriate standard of quality. That old, rotted stump in the garden might be a good spot to rest your beer at a BBQ, but it's not going to mill into a decent coffee table.
You may also need to consider drying your timber. You can get a mill to cut and dry timber for you or you can do it yourself, or you can manage a combination of DIY and professional milling.  If you opt for the much cheaper DIY method, you need to keep the timber dry and out of the sun at all times. When you stack your timber, keep it all flat and evenly spaced. Twists and dips have the potential to warp your wood.
You should also check the tools you're using before you get started. For a project of this size, you'll likely need a lot more oil for your chainsaw's length of bar and chain than it usually delivers. If you don't get enough oil in there, your chainsaw will overheat and wear away at both bar and chain.
To oil enough, you'll need to adjust the delivery of oil on your chainsaw settings, decant oil into a (very) large bottle and pour generously throughout the bar's outer reaches. Use a lot, then too much and then a little bit more after that. Even if it feels excessive, using this much oil is much cheaper than destroying a four to five foot bar and chain.
Finally, there are some bits of legislation regarding the milling of native timber outside a Sustainable Forest Management Plan / Permit (SFM). This legislation applies regardless of your reasons for harvesting timber and makes no distinction between felling for safety reasons, or profit. In short, you have to register your mill, ensuring that you comply with the conditions outlined by the Ministry of Primary Industries.