Palm Trimming & Removal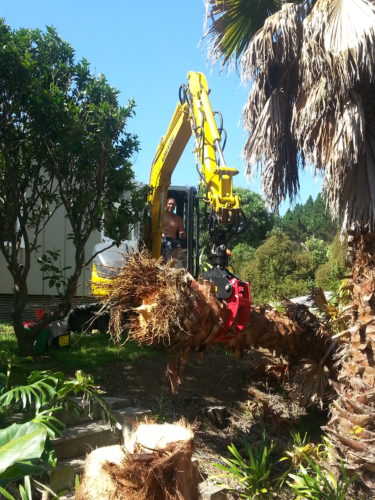 Whether you want to grow your palms, trim them back, maintain or even totally remove them, ArborAid are Northland's expert service for Bay of Islands and Northland.
Palm gardens are beautiful when properly maintained. However, a beautiful palm can quickly become a headache if left neglected. Either way, we understand. Whether you are looking for complete palm removal or to control growth, you can be confident in our expertise, customer service and value. As Bay of Islands's palm trimming experts, we are experienced in working with the most common palm species around Northland regions: phoenix, washingtonia, queen, fan and bungalow palms as well as nikau. Take a look at our main palm services below:
Palm Trimming Services: many palms actually do not need trimming but instead require correct spraying or fertilisation. If your palm has a large crown, that's actually a good thing! Many species are best left to manage themselves. We can determine the best approach for your palms and provide advice free of charge.
Complete Palm Removal: to be implemented when palms get out of control (particularly the spine-covered phoenix palm, or towering washingtonias). Sometimes, the best and only course of action is complete palm removal. With years of expert knowledge and all the required equipment, we will swiftly, cleanly and completely remove your palm problem.