Tree Logging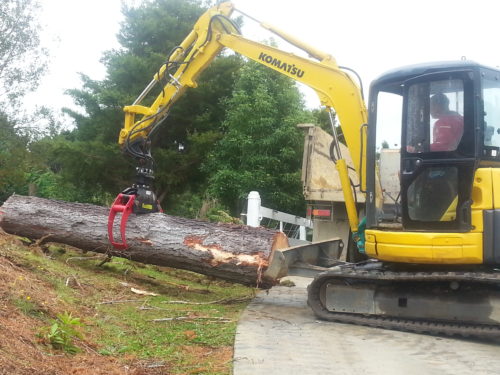 Redundant, old or even dangerous plantations and windbreaks can have a detrimental impact on your property. What's more, if your crop of pine no longer provides a harvest that's financially viable, that forest is likely more trouble than it's worth.
ArborAid can handle the logging of trees on your property without any trouble. Just be aware that the quotes you receive from mill and transport operators will depend on the characteristics of your tree lot. ArborAid maintain great relationships with the Bay of Plenty mill operators and transport companies, so we know what pricing is reasonable. Regardless of your circumstances, we can usually strike a deal that keeps everyone happy.
Our arborists can also time the harvest of your trees to everyone's benefit. Since we operate as a family-owned, local business, our staff avoid the huge costs of heavy machinery and logging crews. Our priority is good service at reasonable prices.
Call us for a assessment of your tree lot. Our consultations are free!