Tree Felling Services in Bay of Islands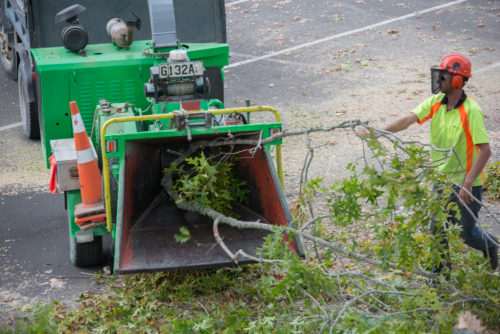 Large trees can be a beautiful frame for our northern sunsets, but they come with risks of restricting road access, causing mechanical failure and difficulty clearing utilities. Sometimes, maintaining road safety means felling that tree. With so much risk involved, DIY isn't really an option. ArborAid deals with any and all felling in an efficient and professional manner.
Bay of Islands' urban landscape is full of variety and plantlife, which means our arborists adjust their methods depending on the space. Sometimes removing trees is a matter of rigging limbs down, but for more intensive jobs we bring in cranes or helicopters. Regardless, we'll ensure that your property is cleaner and clearer.
What's more, our arborists draw on a wealth of knowledge to continually assess the safety of our workers as well as the property and its clients. ArborAid's arborists are continuously assessing the risks for workers, clients and the property itself.
Safety is an important aspect of our operation. Health and safety are imperative when you've got limbs and branches falling every which way. Our arborists pay close attention to the detail and maintain the safety of our sites. ArborAid professionals are sure to
Monitor individuals on site at all times
Perform regular maintenance and safety checks of all machinery
Adapts methods in accordance with a large range of tree and plant life
Our experienced team will ensure your space is worked on efficiently and safely for a clean and effective result. What's more, we do it with a smile!
We also provide free advice and guidance on the trees on your property. If you're not sure how to tackle that huge tree in the backyard, we can definitely help. Here are some quick tips on managing your trees:
See if your trees are healthy; flowering at odd times or leaves rotting on the tree are definitely worth paying attention to
Consider the environmental conditions around your property. Earthworks and changes to the ground around your trees will also have an impact
You know your property better than anyone, so key observations about your land will help us offer sound advice regarding the treatment of your plants.
Once the job is done and you're happy with the result, we'll clean everything up for you too! We give away all leftovers to a good home, so rest assured the wood, mulch, wood chip and green firewood rings from your job are taken care of. If you're after any tree debris, we will happily deliver it to you next time we have a job in your area!
Give us a call and we can offer free advice, free consultation and even the possibility of free firewood.